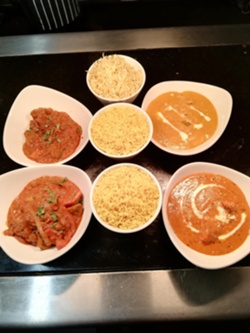 Each order comes with complimentary 2 popadoms, mint dip and mango dip.
Special star system to indicate the strength of curries.
* Mild
** Medium
*** Fairly Hot
**** Very Hot
(N) These dishes contain Nuts
(G) These dishes contain Gluten
(M) These dishes contain Milk/Cream/Dairy
FOOD ALLERGIES AND INTOLERENCES

PLEASE SPEAK TO OUR STAFF ABOUT THE INGREDIENTS IN YOUR MEAL WHEN MAKING YOUR ORDER.

THANK YOU
The vegetarian option contains paneer.